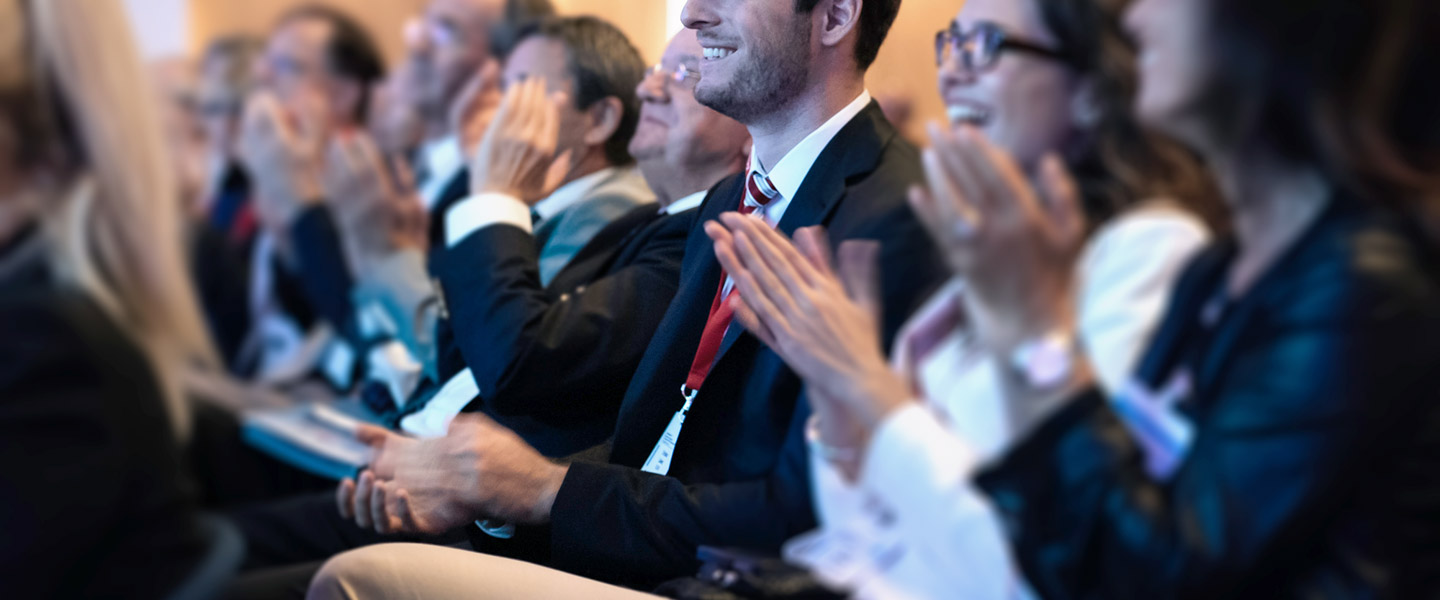 Client References
Annual Meeting of the German Society for Thoracic and Cardiovascular Surgery 2016
…Thanks for a great congress and amazing customer service throughout the whole process…congratulations to you and your team for the efficient and professional work throughout the whole process of this show…
Laetitia Montfort, HeartWare – International Exhibits and Events Specialist
---
Annual Meeting of the European Association for the Study of Diabetes 2016
…I would like to thank you for the great assistance you have given LDR throughout the week, the numerous special request with cars, meeting rooms, emergencies. Jürgen and Celina have always been there for us!…
Giovanna Toffoletto, lever de rideau
---
ESC Congress 2012 -European Society of Cardiology
…Interplan's attention to detail during both pre-planning and on site was of an incredibly high standard and ensured the smooth running of those areas for which you were responsible on site…
Ginny Porpora, Managing Director, Delfino Logic Limited
---
5th International Symposium on Drug Hypersensitivity
…However, I am even more glad that everything worked out so well and that the atmosphere and the quality at the meeting was so good…
Prof. Dr. Knut Brockow, Department of Dermatology and Allergy, TU Munich
---
48th Annual Meeting of the European Association for the Study of Diabetes
…That has to be the quickest stand approval we've ever received…you're officially my favourite show organiser!…
Jamie Adams, Fernleigh Design
---
Congress of the European Brewery Convention 2013
…your commitment…was something which we had never experienced in this form…
John M. Brauer, EBC Executive Officer, The Brewers of Europe
---
ERA-EDTA Congress 2010
…They were always willing to go the extra mile to find the perfect solution for our needs and to our last minute requests…
Chantal Kesselmark, Senior Congress & Event Specialist, AMGEN (EUROPE) GmbH
---
13th International Attachment Conference
…Thank you SO MUCH for all your brilliantly efficient organisation — everything ran so smoothly, it was a really good experience, and very memorable…
Andrea Perry, Independent Psychotherapist
---
ITI Congress Germany 2015
…we appreciate your professionalism and dependability in the planning and the execution of our congress…
Sven Pfeiffer, Event Manager ITI International Team for Implantology
---
European Respiratory International Congress
…Please also pass on our thanks to the rest of your excellent team — especially Julia; their patience with my endless questions was tested but they were always charming and helpful!…
Robina Curl, Conference Resource 8C Wilds Rents
---
61st International Congress and Annual Meeting of the Society for Medicinal Plant and Natural Product Research
…your professional competence, and, in general, your very humane and friendly manner in dealing with your counterparts…
Prof. Dr. Andreas Hensel, Managing Director, Institue for Pharmaceutical Biology and Phytochemistry, Münster
---
OSCE Conference 2016 & G20 Summit 2017, Hamburg
...the collaboration with you and Interplan within the framework of the OSCE Conference was consistently underlined by professionalism and reliability. In particular, I wish to highlight the friendliness and warmth which I encountered at all times. It is clear to me that you understand and love your profession and I look very much forward to collaborating on future joint projects. I could not have wished for a better partner for these special occasions...
Claudia Maruhn , Group Sales Manager, Grand Elysée Hamburg
---
ERS International Congress 2018
...Working with such a great and dedicated team as yours always makes my job easier and enjoyable!...
Kristof Kemp, European Respiratory Society - Congress Industry Relations Manager
---
European Congress of Endocrinology
…It is not often that we enjoy such a pleasant cooperation with an agency. We would like to take this opportunity to express our thanks to you and your team…
H-Hotels – RAMADA / H2Hotels, Munich
---
ACCOR Hotels
…Your fair and open manner of communication on an equal footing, the understanding you show towards a hotel as well as your ability to find quick solutions are remarkable…
Markus Brodmann, Director Meetings & Events
---
EAACI Congress, Munich 2018
...the presidential dinner your organized was a success, and much better than I ever expected. You suggested a terrific band, and for the first time since over a decade that I have been at the conference, all people got up and danced! Second, the decoration was superb, and third, this was the first time I ever got flowers for my work. And then you came with a vase with water for the flowers. Such attention to detail is extraordinary and was much appreciated!
Prof. Dr. Jeroen Buters, Deputy Director ZAUM, local organizing commission
---
ITI World Symposium 2014
…It was a real pleasure for me to work with Interplan for four years. The positive feedback coming now from our clients are part of your successful work as well…
Nadia Kozeleva, MEDTECH Implant LLC
---
European Academy of Allergy and Clinical Immunology
...on behalf of EAACI, I would like to thank you for the wonderful collaboration and, above all, for making the impossible possible with us. Here's to another super collaboration...
Sue Paredi, Executive Director, EAACI Headquarters
---
62. Congress of the German Society of Urology
…you and your colleagues are a stroke luck for German urology. Your work is professional, you are constantly present and helpful…
Prof. Dr. J. Steffens, President of the German Society of Urology, 2010-2011
---
48th Annual Meeting of the European Association for the Study of Diabetes
…The professional attitude, facing whatever situations even the tough ones with a smile…
Mohamed Elwi, Novartis Pharma Services AG
---
24th International Congress of The Transplantation Society
…your dealings with us were always responded to in the most collaborative and friendly fashion - you made us all feel we were part of a larger, cohesive team with a singular focus…
Jean-Pierre Mongeau, Executive Director, The Transplantation Society
---
Congress of the German Central Association of Homeopathic Doctors 2013
…Professionalism is mirrored in foresight, lateral thinking and the necessary dose of serenity…
Joerg Konrad, Technical Director, Weimarhalle
---
Annual Meeting of the European Association for the Study of Diabetes
…Interplan is one of the most professional congress organisers in Europe. Their employees were extremely friendly and effective and the co-operation was really enjoyable…
Dr. Viktor Jörgens, CEO EASD 1987–2015
---
Annual Meeting of the European Association for the Study of Diabetes 2016
…the convenient online booking tool as well as continuous correspondence with both groups and individual delegates, were handled expertly by your dedicated staff…
The venue proposals…as well as the selection of the caterer were perfect and made these events unforgettable.…
Dr. Monika Grüßer, Managing Director & Chief Medical Officer
---
13th World Congress of the European Association for Palliative Care
…I would like to thank you and Elke and the rest of the team for the excellent organization of the conference. A job well done!…
Lora Cascun, Hospital Nursing Manager
---
4th International Congress of the EuroELSO
…I believe that we have achieved something special both from a scientific point of view as well as from the ambience…
Dr. Thomas Müller, Chairman EuroELSO 2015
---
European Respiratory International Congress
…we especially enjoyed your professionalism, flexibility and great reliability at every single of the events in all these years. We are already looking forward to the upcoming events with Interplan, knowing full well that the whole process will be harmonious, on schedule and stress-free…
Frank Eichenberg, PUBLICADDRESS Exhibition & Design GmbH
---
G20 Summit Hamburg
...Our properties, the Renaissance Hamburg Hotel and the Hamburg Marriott Hotel, have been working with Interplan for many years and have always been completely satisfied with their service. The staff at Interplan's is knowledgeable, very service-minded and always very friendly. We have had the great pleasure to working with Interplan during OSCE in December 2016 and also during the G20 Summit in July 2017. Especially during those big events, we were most impressed with their excellent services and the trusting cooperation. They have always been available in the pre- and post-planning phase and during the summit itself we were even able to contact them 24 hours. No matter what question or challenge occurred, they have been a great support. Would I be in need of an agency or housing bureau, I would certainly not hesitate to contract Interplan's services...
Marion Mohr, Market Director of Sales - Hamburg Marriott Hotel
---
ECTS Congress 2018
...On behalf of all of us at ECTS, thank you very much for your tremendous job in the planning of ECTS 2018. You helped us staying on track with our milestones, you gave us valuable advice and you made this year congress a wonderful success...
Roberta Mugnai, Executive Director ECTS – European Calcified Tissue Society
---
Annual Meeting of the European Association for the Study of Diabetes 2016
…to compliment you and your colleagues with a well organized EASD congress. We had significant traffic in our booth, felt appreciated as exhibitors and our problems were solved quickly…
Arlette Goddijn, President IDx Europe
---
IAPRD World Congress 2018
...Our colleagues at Interplan were truly our partners for this event, providing continuous support and advice prior to the meeting, excellent and seamless logistics during the meeting, and thorough follow-up after the meeting. This team was full of novel ideas and sound wisdom. Their interactions with our Faculty were polite and professional, their attention to detail excellent, and their familiarity with all of our needs reassuring. I can't imagine planning a Congress without them, and they are fun besides!
Mary Ann Chapman, PhD, Executive Director, IAPRD
---
EAACI Congress Munich, 2018
..., I would like to say a BIG thank you...one of the things I enjoy the most is the collaboration as a team. It is complex, but it works because you are all so professional, knowledgeable & wonderful to work with!
Charlotte Horder, Marketing & Communications Manager, EAACI Headquarters
---
18th Symposium on Infections in the Immunocompromised Host
…We enjoyed working with you and were very impressed by the level of service and hospitality you and the team showed our guests…
Michelle Trimble, Executive Secretary
---
39th Annual Meeting of the European Society for Paediatric Cardiology
…I would just like to let you know what an outstanding job your staff did during the pre-planning phase of the event as well as while on-site during the event…Our experience with your company was truly a pleasant one and I would like to thank you both for the quality service and the professionalism of your staff
Jamie Krukewitt, Event Manager, Abbott Laboratories
---
50th Annual Meeting of the European Association for the Study of Diabetes
…Your colleagues on site were extremely helpful, and although I am sure we were your smallest partner in Vienna, I always got hundred per cent attention and dedication…
Edgar Brazda, Promenade Medical Communications
---
Hilton Munich Park – Reference
…The Hilton Hotels in Munich appreciate the reliable and professional collaboration during different periods of congress organisation…
Verena Wogatai, Area Director of Business Development Germany South Hilton Hotels
---
45th European Brain and Behaviour Society Meeting
…you and your team have truly put the Interplan Motto into practice: We want to see you smile…
Dr. Mathias V. Schmidt, Max Planck Institute of Psychiatry
---
49th Annual Meeting of the European Association for the Study of Diabetes
…Your professional ethics, speed of response, courtesy and availability are impeccable and working with you is a pleasure and has made my job so much easier…
Elena Jane Fezzardi, Rapiergroup
---