Congress, Meeting & Event Management
What can we do for you?
Contact our Business Development team in Munich to learn more!
---
---
Upcoming Congress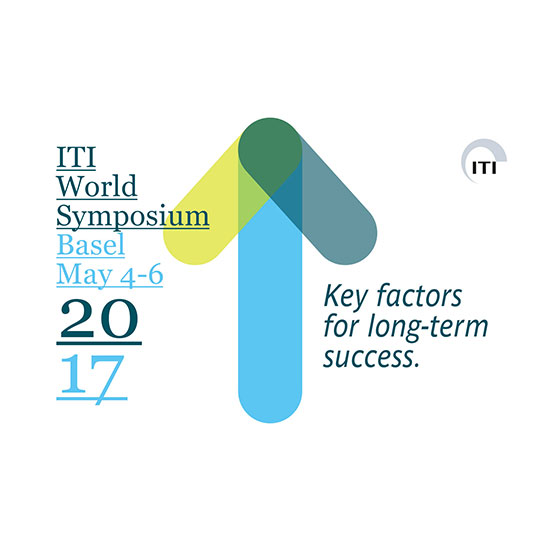 ITI World Symposium, Basel 4 - 6 May 2017
Key factors for long-term success
By holding its World Symposium in Basel, the International Team for Implantology ITI has turned a full circle and gone back to its roots. The organization was founded in nearby Waldenburg and held its very first World Symposia in Basel in 1988 and 1992. Basel itself is very welcoming with a charming old town and the river Rhine that weaves its way through the city and into neighboring Germany. The meeting will be held at Messe Basel, with its newly refurbished and extended infrastructure and facilities, thus ensuring a great event for participants.
In 2017, the theme of the ITI World Symposium is "Key factors for long-term success" and is directly linked to the importance the ITI places in evidence-based information for application in daily clinical practice. For well over 35 years, the ITI has focused on supporting and promoting evidence-based science and has built up a deservedly strong reputation for rigorous examination of new methods and technologies. The ITI World Symposium serves as a regular meeting point for all those who are eager to hear about and experience these latest findings within the field presented by an international faculty of top speakers.
ITI-2017
---
ERA-EDTA Congress 2010

…They were always willing to go the extra mile to find the perfect solution for our needs and to our last minute requests…
Chantal Kesselmark, Senior Congress & Event Specialist, AMGEN (EUROPE) GmbH

ESC Congress 2012 -European Society of Cardiology

…Interplan's attention to detail during both pre-planning and on site was of an incredibly high standard and ensured the smooth running of those areas for which you were responsible on site…
Ginny Porpora, Managing Director, Delfino Logic Limited

ACCOR Hotels

…Your fair and open manner of communication on an equal footing, the understanding you show towards a hotel as well as your ability to find quick solutions are remarkable…
Markus Brodmann, Director Meetings & Events

48th Annual Meeting of the European Association for the Study of Diabetes

…That has to be the quickest stand approval we've ever received…you're officially my favourite show organiser!…
Jamie Adams, Fernleigh Design

Congress of the European Brewery Convention 2013

…your commitment…was something which we had never experienced in this form…
John M. Brauer, EBC Executive Officer, The Brewers of Europe

Annual Meeting of the European Association for the Study of Diabetes 2016

…the convenient online booking tool as well as continuous correspondence with both groups and individual delegates, were handled expertly by your dedicated staff…
The venue proposals…as well as the selection of the caterer were perfect and made these events unforgettable.…
Dr. Monika Grüßer, Managing Director & Chief Medical Officer

ITI Congress Germany 2015

…we appreciate your professionalism and dependability in the planning and the execution of our congress…
Sven Pfeiffer, Event Manager ITI International Team for Implantology

European Respiratory International Congress

…we especially enjoyed your professionalism, flexibility and great reliability at every single of the events in all these years. We are already looking forward to the upcoming events with Interplan, knowing full well that the whole process will be harmonious, on schedule and stress-free…
Frank Eichenberg, PUBLICADDRESS Exhibition & Design GmbH

24th International Congress of The Transplantation Society

…your dealings with us were always responded to in the most collaborative and friendly fashion - you made us all feel we were part of a larger, cohesive team with a singular focus…
Jean-Pierre Mongeau, Executive Director, The Transplantation Society

26th International Congress of the European Respiratory Society

…We aim to attract the attention of the scientific public for our medical device. Interplan understands this and gives us support and personal attention…We consider Interplan a very professional organization…
Corinne Meurs, Vice president McRoberts