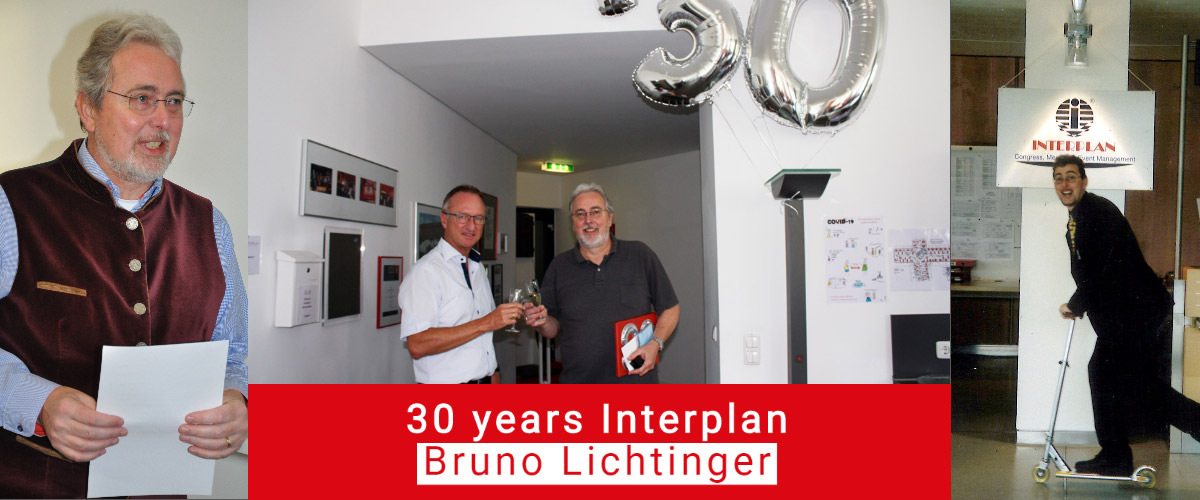 Board member Bruno Lichtinger celebrates three decades of Interplan
Thirty years filled with commitment, passion and enthusiasm for the organisation of congresses.
In 1990, Bruno Lichtinger started as one of 8 employees in project management at what was then still known as Interplan-Kongress-und-Besucherdienst Anton Kössl.
Since 2001, Bruno Lichtinger has headed Interplan AG and accompanies the entire team, the clients and the projects with his know-how and his incredible wealth of experience in all aspects of modern congress organisation.
Extraordinary times call for extraordinary measures! The anniversary celebration took place with a small part of the Munich team present onsite – with correct social distance and face masks of course – and broadcast to all other colleagues in home office and the various branches of Interplan via video conference. The Interplan company choir recorded a special anniversary song online and presented it to Bruno. The surprise effect was once again a success!
Some traditions remained the same – and that's a good thing. Board colleague, Dr. Markus Pressuner, held an anniversary speech and presented the golden Interplan Pin to Bruno.
A track record of thirty years in one company and in our branch of work are exceptional and deserve our applause.
Bruno Lichtinger, together with his team, raised their glasses to the future! Great challenges face all of us. The team and the Board of Directors will also embrace and manage these with commitment.