Culture of open ideas at Interplan
10.09.2021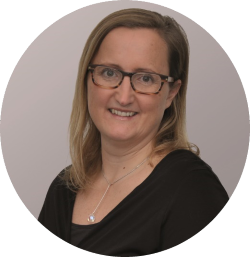 An interview with Christine Hense, Director People & Operations / Member of the Executive Board
Today is international "Swap Ideas Day". The day aims to prompt us to share more ideas to inspire and enrich each other. An idea is a spontaneous notion, a new, original thought that can be put into practice or a mental blueprint for an invention, a work of art or a literary creation. Sometimes it means a principle, a concept or a basic idea that determines a person's thoughts and actions.
Ms Hense, are ideas also shared at Interplan?
Christine Hense: In event organisation, innovative strength and creativity is a key skill for long-term success. The last eighteen months presented us with a whole new set of challenges, amongst other things when it came to the speed at which entirely new solutions became necessary. At Interplan we go out of our way to facilitate and promote a very open and permeable culture of ideas. Meaning: On the one hand, every employee always has the opportunity to contribute suggestions actively, and on the other hand there is an open and appreciative exchange of ideas. I am firmly convinced that every idea becomes better when as many and different perspectives as possible are added.
Are there specific measures to support the philosophy of sharing ideas or does this take place seamlessly within the company?
Christine Hense: When it comes to operating procedures, it is mainly innovations for finding acute solutions that we develop seamlessly, as you say. These are often new processes or services for the customer. Last year, for example, we developed a completely new service step by step with virtual meetings, and implemented this for our customers. Furthermore, at Interplan we actively set impulses in the team and thus create the framework for the development of new ideas and approaches.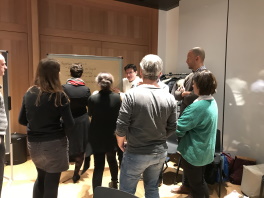 An example?
Christine Hense: For example, in January 2019 as part of the Project Manager Days. We were "off-site" with 50 employees for two days to work together on specific future strategies for three core areas: Technology & systems / Cooperation & structure / Project profitability. At the event, we spent half a day engaged in discussions under the heading of "Rethinking Interplan" in a completely open setting. This gave rise to fascinating approaches for a responsive internal organisation with cross-team and remote working as well as for the digitalisation of administrative processes. Faster than anticipated, this was an excellent basis for the shake-up associated with pandemic requirements.
But do you ever take a different approach when it comes to finding ideas?
Christine Hense: In 2020 we staged an in-house team "hackathon" for the various departments, based on a post-coronavirus scenario. The teams have developed ideas and strategies for their areas, concerning how we as a company can adapt to the foreseeable changes. Amongst other things, this has resulted in the basis for a flexible working time model, which we will implement in January 2022.
Sometimes it's the little things that can bring about lasting, positive change. Is that how it is at Interplan?
Christine Hense: It is indeed. Through many small changes and their successful implementation, a team or the company learns how to deal with them. An ideal preparation for taking big steps, which ultimately also consist of many small parts. Along with growing confidence in one's own abilities comes the courage to change, and ideas grow on top of that.
When a colleague tells you about an idea, how do you respond? What is the chance of this being implemented?
Christine Hense: In principle, there is always the possibility of an idea being realised. First and foremost, however, a proposal needs to be examined in detail. We devote a lot of time to this in direct, personal discussions with individual employees or frequently with entire teams. Proposals always need to be considered within their overall context. Who is involved? How and where will the change have an impact? What are the benefits of change and when would be a good time?
Some proposals need some time and may also need to mature and develop. We might already be waiting eagerly for ideas to help solve concrete problems, and can start implementing them directly. It is important that colleagues share their thoughts and that ideas are discussed and addressed freely. This is one of the reasons why we have written open and direct communication into our Corporate Guidelines as the first and most important item.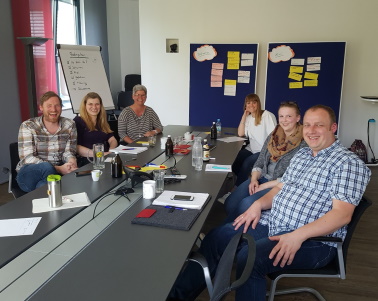 What was your greatest idea in your professional life to date?
Christine Hense: It seems a bit weird to call your own ideas great. But there have certainly been one or two flashes of inspiration that have led to positive changes. From my point of view, for example, the development of our internal education and training programme was a really good step. Based on the specific needs arising out of our work requirements, we have developed a sustainable and sequential programme in conjunction with internal experts and external trainers, which is continuously being updated. From career starters to experienced project managers, it offers valuable further training in addition to practical experience – both professionally as well as in terms of personal development. Unfortunately, the coronavirus pandemic and the many urgent changes associated with it have put this programme on hold for the time being. This year, the programme has started once again and we will pick up speed step by step – with many new ideas.