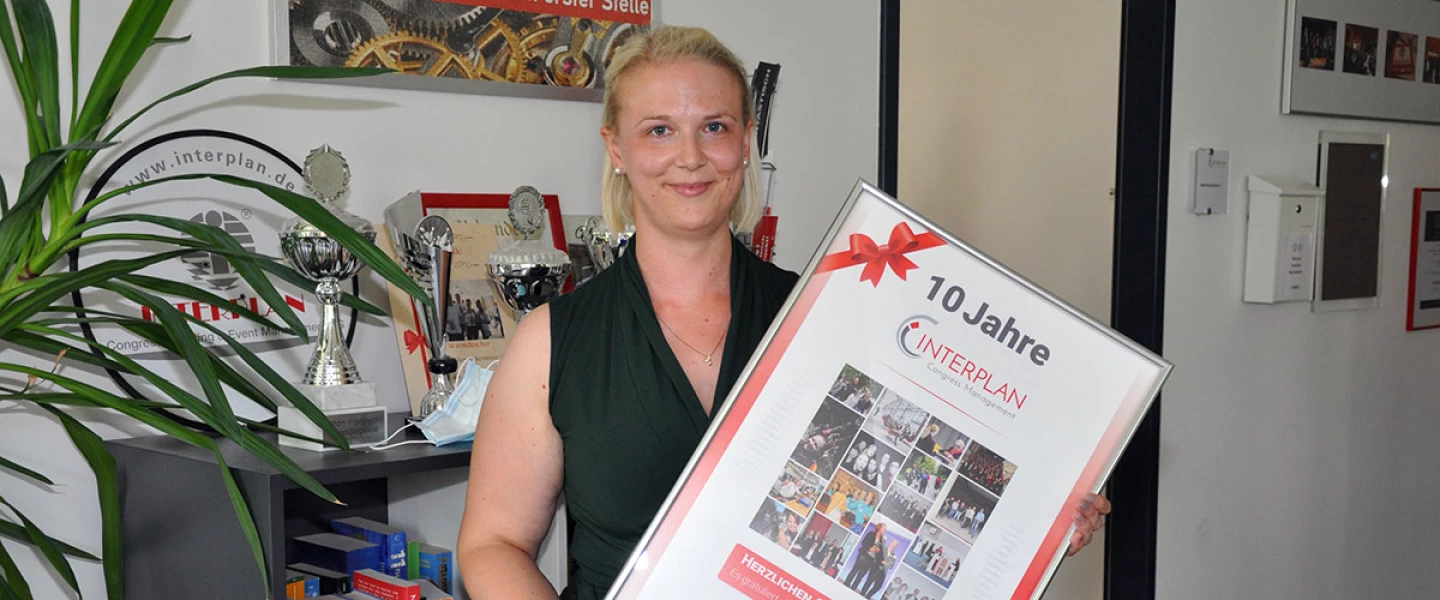 It clicked right from the start! And it was wild!
10.08.2021
Never mind the clichés: When companies and employees make a perfect fit, they click right from the start and people stay connected and committed. Tine Kiendl started as an event management trainee at Interplan in Munich on 11 July 2011. She is now celebrating her tenth anniversary at the company.
She gave herself a "present" to mark the anniversary: She has held the position of Senior Project Manager since 1 July of this year and is looking forward to the topics that will continue to make the future exciting at Interplan. Not just the new job, but also the changing conditions in the field of congress management are anything but boring, she declares. At the age of 31, Tine can already look back at significant milestones in the business. Insights into ten years at Interplan.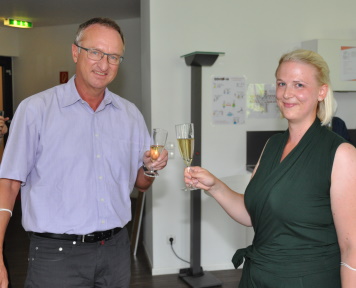 What do you remember about your first day at work?
Honestly? After a few hours, my head was throbbing because I was overwhelmed with congress and departmental abbreviations I didn't understand: FOBI, DGKJ, EAPC, DGTHG, ILD, DMC, BD ... today self-explanatory, but utterly confusing back then!
Which corporate field or which service has changed most over the past decade? What do you feel has been revolutionary for the industry?
We bring people together who want further training and interaction with others, mainly to improve the health of other people. That sounds like we want to make the world a better place, but I like the notion. We also pursued this concept during the global pandemic and moved our events to virtual venues from one moment to the next. Apart from that, I find it fascinating how corporate structures have repeatedly changed in a responsive manner over the past few years to create the most efficient workflows and interfaces possible. We remain in a state of flux to this day.
What is your next project?
The virtual DVR Congress and the similarly virtual EAPC World Congress, both taking place in October. For May 2022 we are preparing the currently hybrid congress for the European Society of Nephrology in Paris.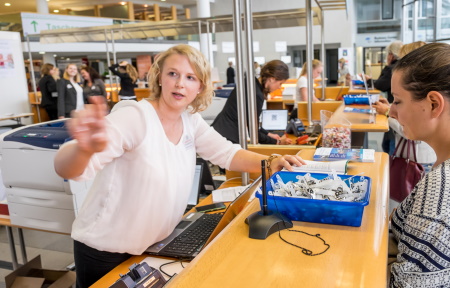 What aspect of your work do you most enjoy?
This cannot be limited to one single aspect. In fact, it's the variety of tasks and areas that make the job so interesting!
If you had to use one adjective to describe the last few years at Interplan, what would it be?
Wild!
And do you have a tip for the future? What is your prediction? Where is the journey going?
The world, and therefore our industry, is changing so fast at the moment that it is difficult to predict where we will be in five, ten or twenty years. Certain is, that we have to tailor our events increasingly to the ever changing requirements of the market and our customers. And yet I am firmly convinced that the topic of sustainability will play an increasingly important role, especially in the field of event management.
A couple of questions for Christine Kiendl – of a personal nature ... if we may?
Of course!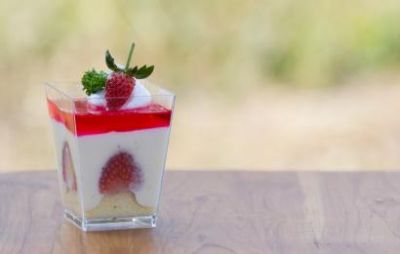 What doesn't have a long shelf life in your fridge?
The bottle of dry rosé, cheesecake in a glass and vegetarian meat salad.
Do you know what profession your parents had in mind for you?
No, no idea. I don't think there were any firm ideas, but as a child I wanted to be a cook or a coachwoman delivering beer ;-).
Do you have a role model – personal or professional?
I don't think much of personified role models, but I do take certain values of different people as a model, for example Tijen Onaran, Kevin Kühnert, Michelle Obama or a close friend from Berlin.
What question that you are frequently asked do you not have an answer to?
What's your favourite food? There is simply too much to choose from.
Glass of Tegernsee beer or a Munich Mule cocktail?
Depends on the event and the mood I'm in!