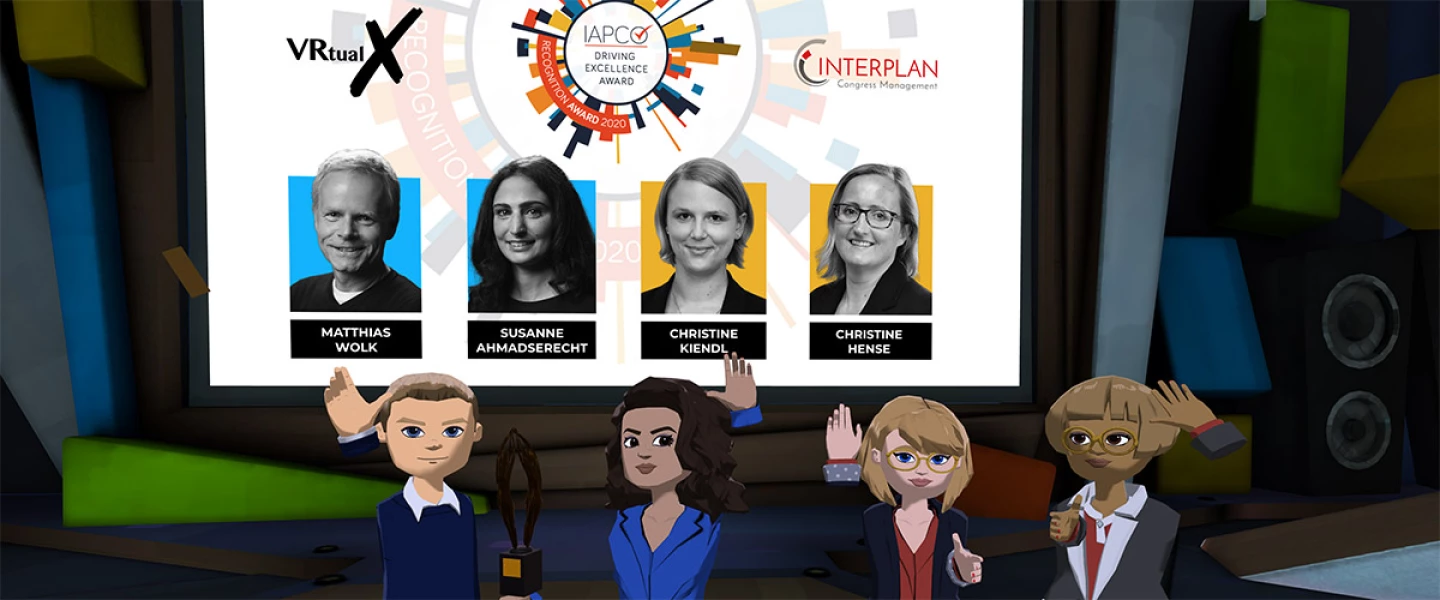 Congratulations VRtualX – well deserved!
06.07.2021
IAPCO Best Supplier Recognition Award goes to our partner VRtualX
VRtualX was nominated for the IAPCO recognition award as a specialist for the conception and implementation of VR, AR and software projects that enables to extend virtual congresses and create attractive and user-friendly appearance. They entered this special field with the beginning of the pandemic and they rapidly gained an up-to-date understanding of the situation, anticipated our needs and started developing tailored software solutions in an impressive speed and quality. This allowed us to hold state-of-the-art virtual events taking into account the needs of a wide range of stakeholders.
While acting as a tangible consultant, a product according to the most modern UX and UI standards was created simultaneously. The result was a pleasant, easy to understand and thus practical digital congress solution for all sides. In addition to the professional event preparation, we also experienced VRtualX as a competent, highly reliable partner in the live implementation. Last-minute changes were handled unbureaucratically, quickly, and always in the highest quality, even under the greatest time pressure. In seven joint projects in the course of 2020 more than 14 000 participants and 230 industry partners have already been convinced by the excellent software solution.
At Interplan, we believe in the continuing need of high-end digital solutions as part of our "new normal" environment as meeting planners. The accessible and innovative combination of face to face meetings & virtual worlds will strengthen the outreach of our congresses in the future. A partnership with VRtualX will guarantee the right ideas at the right time and state-of-the-art implementation for our clients.
We are proud to present the IAPCO Recognition Award for the best supplier 2020 to our partners from VRtualX.
Congratulations from the entire Interplan team!
Our success story with VRtualX
By Christine Kiendl – one of our pioneers in virtual meetings and the first one to collaborate with VRtualX.
The year is 2019 and we are happily planning and preparing a rather large national congress on dermatology, one of our core clients but a first timer for me in the role of the project manager. We are ahead of the time in our milestone plan and everything is running smoothly... Maybe too smoothly? Anyway, we are enthusiastically starting into the New Year 2020, a year of great endeavours.
Then, I am sure you might have guessed, disaster struck, Corona hit the world with full force. For a short period of time everything was on hold – the meeting industry was paralyzed. Soon after, in what felt like a blink of an eye, ideas were racing through our heads, brainstormings were being run, and a new meeting format emerged – the virtual congress. However, what exactly does that mean, what does it include, how does it work, what providers to use? So many questions, so little knowledge on my part. Congresses, for us, are not only about content delivery, about lectures and study results. They are about experiences, about meeting fellow professionals, about networking and interpersonal connections. So, how would it be possible to transfer all of this to a virtual world without losing our delegates or industry partners along the way?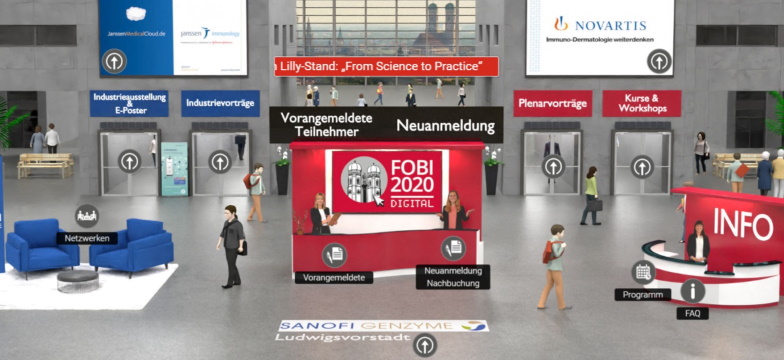 Soon, we learned that VRtualX, a supplier we had not worked with in the past but had already been in contact with over various matters, could actually be our partner of choice for this new approach. Trusted by many for delivering interactive 2D and 3D environments for trade fair shows and other industries, VRtualX seemed to be the perfect supplier to re-create the congress experience and to make the feeling of a meet up tangible. When I first started working with VRtualX, it felt like pioneering towards the moon landing for me. All this new vocabulary, technical terms and environment. Nevertheless, VRtualX turned out to be best partner for this endeavour! Working fast-paced, straightforward and creative – just as ourselves. Soon, we developed a partnership at eye level and our processes started to interlock like cogwheels.
In just over 2 months' time, thanks to their flexibility in workflows, we transformed a complex onsite meeting into a virtual congress. Together with VRtualX and a streaming supplier, we built an online experience reflecting all features of a "normal" congress: lectures, industry symposia, networking and an innovative virtual industry exhibition with over 40 booths. And were unexpectedly overwhelmed with positive feedback from our delegates, our client and even the pharmaceutical industry!
After this success, we stuck with the credo "never change a winning team" and thus, from July 2020 until today, realised a variation of projects in individual settings together with VRtualX. And as the meeting industry is ever changing, rapidly developing new ideas, we are currently involved with VRtualX in creating innovative concepts for hybrid congresses, leading us into the future of the "new normal" in meetings.
So, to close up on this little time warp and to make a long story short, we wish to extend our gratitude for a great partnership throughout the last year and also the current year and look forward to all things to come!
Congratulations, well deserved!
---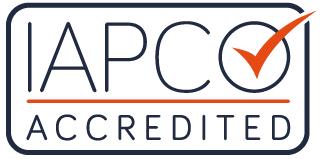 IAPCO
stands for quality, community & partnership. The IAPCO mission is to raise the standards of service amongst its members and other sectors of the meetings industry by means of continuing education and interaction with other professionals.